Astana, Kazakhstan, September 29.09.2023 — During the visit of the President of the Republic of Kazakhstan, Kassym-Jomart Tokayev, to the Federal Republic of Germany, NC KazMunayGas (KMG) JSC and Linde GmbH signed a Memorandum of Cooperation and Understanding.
Magzum Mirzagaliyev, Chairman of the Board, signed on behalf of the Kazakh side and Oliver Pfann, Senior Vice President for Middle East, Europe, and Africa of Linde, on behalf of Linde.
The Memorandum signifies the expansion of cooperation between NC KazMunayGas JSC and Linde GmbH in the oil and gas industry on mutually beneficial terms. The companies have pledged to apply innovative and highly efficient design solutions to improve petrochemical and gas chemical processes. Additionally, the partnership will focus on developing and implementing carbon capture methods specifically tailored for KazMunayGas projects.
«In his address to the people of Kazakhstan, the President emphasized the need to develop the oil and gas processing cluster. This is a big window of opportunities for us, and strengthening the cooperation with Linde will help us to further actively develop this area», Magzum Mirzagaliyev said.
Dr. Oliver Pfann expressed confidence in the success of the upcoming projects: «Joint efforts of KazMunayGas and Linde GmbH will ensure the implementation of advanced technologies into practical solutions for the oil and gas industry. We are confident that our experience and technologies will help KazMunayGas in the realization of its ambitious plans in this area».
The signing of the Memorandum confirms KMG and Linde's readiness to embark on productive collaboration. The partnership reflects the companies' shared vision of sustainable development and innovation in the petrochemical industry.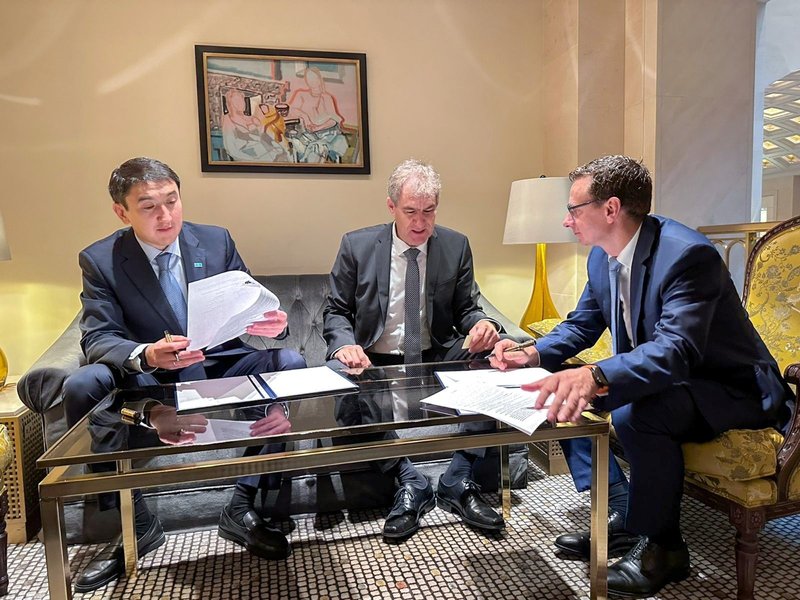 About Linde

Linde is a leading global industrial gases and engineering company with 2022 sales of $33 billion. They live the mission of making our world more productive every day by providing high-quality solutions, technologies and services which are making their customers more successful and helping to sustain, decarbonize and protect the planet.

The company serves a variety of end markets such as chemicals & energy, food & beverage, electronics, healthcare, manufacturing, metals and mining. Linde's industrial gases and technologies are used in countless applications including production of clean hydrogen and carbon capture systems critical to the energy transition, life-saving medical oxygen and high-purity & specialty gases for electronics. Linde also delivers state-of-the-art gas processing solutions to support customer expansion, efficiency improvements and emissions reductions.